I made a couple of Ammo crates for some gifts last year. I thought about selling them but they're just not cost effective for that. You can make a box for about $30.00. You will need (1) 1"x12"x6' board, I used pine, hinges, a latch, and handles. I had some scrap hard board laying around for the bottom of the box. I got everything from the box store. I finished my boxes with Minwax Early American and Wipe On poly.
To add a custom feature I stenciled the name of the receiver on the lid. Most word processors have a 'stencil font' and there are some free websites if you search for them. I then printed it on card stock (easier, but plain paper works too) and cut out the letters with an exacto knife. I then taped on the stencil with blue tape and LIGHTLY spraypainted over the stencil. I did this after finishing the stain
I just glued and brad nailed the box together, but you could use dados, dowels, pocket holes, or whatever.
How To Video with Measurements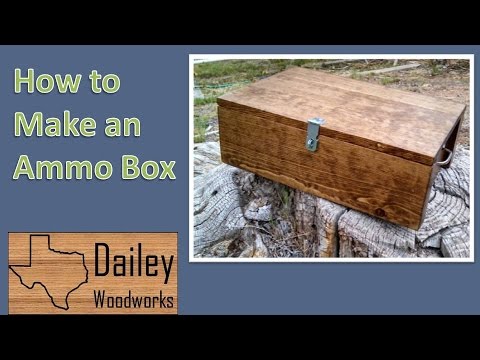 Thanks everybody, If you have any specific questions let me know!